Find the finest books on Military Aviation with reviews: Military Aviation Books Library
Iron-Eagles Reference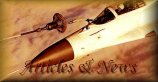 Articles and News Stay up to date with the latest happenings and expand your knowledge with the worth reading articles.

Photo Galleries Find the most awesome photographs of fighter-planes.
Aircraft Database Technical and development data on various planes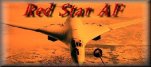 Red Star AF: The Complete Site dedicated to the Russian Air Force: Past present and future. An awesome reference for those researching on the RusAF.

Stealth Technology: How and Why
Covers Plasma Stealth also

Chinese Air Force (PLAAF)A small section dedicated to the PLAAF. In depth details yet to be added.

EM-Weapons An unusual section on the mystical Electro-Magnetic weapons. I can't say whether Goldeneye exists but this is surely worth checking out
All time favorite references and sections:
Coming up on this site:
| | |
| --- | --- |
| | Israeli Air Force: Special Section |
| | Indian Air Force: Special Section |
| | New Russian Fighters: those left out! |
Site News
Hello visitors, a warm welcome to you. Here are a few things lately added into the site:
| | |
| --- | --- |
| | Added a detailed article on Mil Helicopters (edited by Aseem Kulkarni specially for this site) |
| | Added article on the Electromagnetic Mind Control weapons. Check out the EM-Weapons Section. |
| | |
| | Added article on the S-37 Berkut. |
| | Added articles in the articles section |
Have you got something to contribute to this site
Iron-Eagles Administrator (webmaster@ironeagles.zzn.com)
Search Iron-Eagles (Searches only this site)
Pic of the week:
Chinese EuroFighter-2000 ??? Whatever... this hot Chinese warbird is worth a praise!
Last updated on: Monday August 02, 2004
DISCLAIMER: This is a non-profit website, basically for the Military Aviation Enthusiasts and most of the Data included is for their educational and reference purposes. Some of the sources include Jane's Military Aircraft Update 1997, Fas.org, Aeronautics.ru, RAND Research documents, personal contacts and photo graphs from various net resources and text books.
Please e-mail your comments at: webmaster@ironeagles.zzn.com
IRON EAGLES: MILITARY AVIATION FAN SITE
for the Aviation Enthusiast

View My Guestbook
Sign My Guestbook