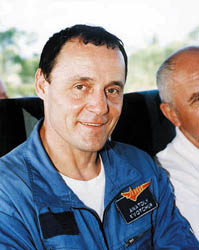 Anatoly Kvochur
Foreign mass media dubbed him "Russian flying legend". Russian experts call him "pilot by the grace of God". His real name is Anatoly Kvochur. Several years ago he was in the world's top ten. Now he leads the dozen.
"A pilot by the grace of God, you say? Well, I do not know. We are all here by the grace of God", said Anatoly Kvochur rather modestly during the interview at his office in the town of Zhukovsky. Kvochur moved into the office not long ago, so the furniture is quite scarce, that is a table, a couple of chairs, and a computer. On the wall, at the most prominent place, there is a portrait of M.M. Gromov.
Currently, A. Kvochur holds a position of Deputy Chief, Flight Research Institute named after M.M. Gromov. Hence two interrelated spheres to apply his skills. They are flight testing and scientific activities. Moreover, he is head of Flight Research and Aerobatics center (FRAC) the name and concept of which incorporate the words "pilot" and "scientist".
The center was set up in 1992. Its aim was to perform professional aerobatics flying the Sukhoi Su-27 and Su-30 aircraft both in group and separately, and to carry out research into the following fields:
| | |
| --- | --- |
| | supermaneuverability |
| | ergonomics |
| | avionics |
| | air refueling |
| | long range non-stop flights |
| | modern computerized flight preparation and AAR (after action review) systems. |
Anatoly Kvochur is leader of the group that includes pilots Vladimir Loginovskiy and Alexander Garnayev. The Su-27 No 598, 595, and Su-30 No 597 demonstrators used by the group are equipped with the most sophisticated radio and navigation equipment, satellite navigation included, and they feature air refueling system. Their flight range at a cruise speed of 900-1,000 km/h and at an altitude of 12,000-15,000 m is about 4,000 km. When air refueled, Kvochur flown Su-27 covered 16,000 km within 24 hours with only three intermediate stops. This unique super long range flight took place in March of 1995 and the plane flew from Moscow via Tashkent and Singapore to Melbourne and back. Moreover, A Kvochur took part in almost every major air show.
Almost every air show hosting nation is eager to invite Kvochur, for his participation guarantees a spectacular aerobatics, with stunts changing each other without pauses at an extremely low altitude. One of the most vivid ones is of course the Cobra, when a plane brakes, hovering in midair with a very big angle of attack, which resembles cobra's stance before it hits. Other figures include the Knife, when the plane moves forward with the 90-deg. turn, and the Bell. Being a test pilot since 1977 and having worked for the Mikoyan design bureau for over 10 years, Kvochur has been performing stunts ever since. He performed the Cobra in the early 1990s as part of the "Dogfight" program. It is worth mentioning here, that at that time the Su-27, with its superb characteristics, did not exist. Having performed this stunt that early, Kvochur proved its high effectiveness, thus opening a new era of the Russian combat aircraft employment.
Ht performed the Bell when a cadet of an Air Force college. Later he decided to make it more spectacular by avoiding rotation and working with the two engines separately. He also worked out safety rules. Nowadays, a lot of pilots perform the figure at an altitude of 1,000 m, while Kvochur can do it at 600 m.
Kvochur's aerobatics can carry one away. His performance is called "little ballet". Every movement of the aircraft is perfect.
The interview took place several days before the group flew to China take part in the air show. The first display of aerobatics took place in 1996. Dmitry Shulepov, the FRAC Director, says about the impression of the spectators, "When Kvochur, Loginovsky and Garnayev took off, the roads were full of traffic jams with thousands of people looking upwards." The air show was attended by about two million people, which made it one of the world's leading airshows.
Both sides were satisfied with the results of Russia's participation. On the one hand, the government of China, the country's tax payers, made sure they are buying aircraft with excellent operational characteristics. On the other hand, three Russian enterprises, namely the Sukhoi design bureau, the Irkutsk-based aircraft production company, and Komsomolsk-on-the-Amur-based plant, received an order. Moreover, a new contract on yet another batch of the Su-27 fighters delivery is being signed now.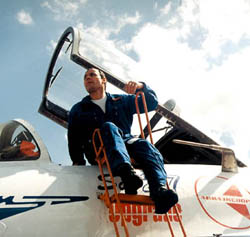 Anatoly Kvochur
The FRAC and Aviasalon branches have prepared a joint exhibition of the Flight Research Institute. Kvochur's center is going to show a satellite radionavigation system that allows to determine the position of two objects, and other interesting things. Apart from everything else, the group's aircraft are flying laboratories. And a demanding person as he is, Kvochur decided to carry out in-flight research into satellite navigation when heading for the air show, over Russia, of course.
Using his own criteria to estimate a test-pilot, it was rather interesting to estimate Kvochur himself. Here is what came out of it.
Q: Aircraft flown?
A: Almost all of them.
Q: Total flying time?
A: Five thousand.
Q: Performance quality?
A: Ten night-time landings on the Admiral Kuznetsov aircraft carrier, dozens of pilots trained for the Navy and hundreds of them for the Air Force.
Q: How did you manage to achieve such results?
A: Mostly thanks to the school. To become a test pilot one has to learn a lot. I was lucky to have excellent teachers. All pilots working for the Mikoyan design bureau, and I myself, are students of A.V. Fedotov. We consider him to be a test-flight philosophy developer. The gist of the philosophy is as follows, a pilot should be enthusiastic with regards to the aircraft and his profession; he should devote all his time to it; he should be well-balanced psychologically and morally, that is he should fly a plane not as he likes but as the problem requires; and, finally, he should always be in tip-top shape.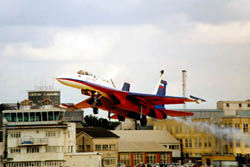 Su-27KK
Kvochur is 46 now but is pretty fit for his age. Being an interesting person for the journalists, he, however, often comes across some really untrue articles about himself. At the Singapore air show he learnt that he was a heavy smoker and was not indifferent towards vodka. He smoked only a couple of months after his wife's tragic death in an air crash. So far as alcohol is concerned, he likes good wine. He has a son of 13 and a daughter, who is now married. Unlike most pilots, he is far from being superstitious, although he does not deny having some kind of mystical connection with the aircraft. There were moments in his life, when he felt that the plane was live. For example, on 8 June, 1989, at Le Bourget, his aircraft suffered an engine failure and Anatoly had to perform ejection. He was close to the plane when it exploded and he thought he saw a living creature dying. Although he was injured, he flew a twin sitter back home. There was another ejection during the training flight in the Crimea. However, in spite of all this, he desires only one thing - to keep on flying. The Sukhoi Su-27 is his favourite. He considers it to be perfection, both in terms of technical and ideological solutions. The Hero of Russia, test pilot Anatoly Kvochur says, "My life-long credo is perfection, and I try to live up to it."