Indonesian Hawk Jets Crash
Two Hawk jets, belonging to the Indonesian Aerobatic team, crashed during routine practice when they tried to cross each other. Read more about it here: Indonesian Hawk Jets Crash
India To Get Israeli 'Aerostat' Radars
The Aerostat radars, which basically include sensors mounted on blimp-like large balloons tethered to the ground with long cables, are a long-standing requirement of the IAF. These radars, along with AWACS (Airborne Warning and Control Systems), will help bolster India's air defence capabilities.
India To get Israeli Aerostat Radars
Korean Warplane Deal: Russian Hopes Soar
The international battle to win a multibillion-dollar jet-fighter contract from South Korea's Defense Ministry has taken a new twist, as Seoul is considering a deal with Russia's arms exporter Rosoboronexport that would award a license for South Korea to assemble and produce the Sukhoi-35 fighter-bomber...Korean Warplane Deal: Russian Hopes Soar
US Military Fighter Jet Crashes
A U.S. fighter jet crashed near Trier, a German city by the Luxembourg border, killing the pilot, the military said Thursday. The F-16 jet can carry a crew of one or two, but the pilot, from the 52nd Fighter Wing, was the only person aboard, said Maj. Scott Vadnais, spokesman for the U.S. Air Force Europe.

The pilot, based at Spangdahlem Air Base, was practicing "touch-and-go" maneuvers – touching down on the tarmac and immediately taking off again – when the plane crashed just short of the runway at 10:08 p.m. Wednesday, said Cmdr. Rex Totty, spokesman for the U.S. European Command in Stuttgart, Germany.

Neither the pilot's name nor further details were immediately available.

The F-16, a single-engine fighter, is a small and speedy plane with a sharp nose and a single tail fin. It can cruise at 1,500 mph – twice the speed of sound, or Mach 2 – and maneuver quickly enough to put nine times the force of gravity on plane and pilot. The $34 million planes can fight other aircraft or launch missiles against targets on the ground.

Top Article
Anatoly Kvochur: Perfection is his credo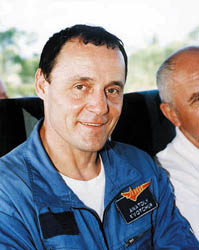 Anatoly Kvochur
Just to introduce him, he was the one to survive the MiG-29 crash in Paris ejecting at an altitude of hardly 100ft. Foreign mass media dubbed him "Russian flying legend". Russian experts call him "pilot by the grace of God". His real name is Anatoly Kvochur. Several years ago he was in the world's top ten. Now he leads the dozen. Anatoly Kvotchur
Cool Stuffs
Joke of the week:
Once a British World War II ace was about to give a lecture on dog fighting tactics during the national Air Force day celebrations, where he finally made a reference to one of his flying incidents with the jerries. He began... "And then I suddenly noticed that those German Fokkers were closing in fast!" And obviously following this, there was a weird expression on the face of the audience, at which the host quickly came in and explained, "Ladies and Gentleman, the Fokker was an aircraft used by the German forces." The ace, continued, "Yeah, that's right, but these Fokkers were flying Messerschmitt."
A few words to the subscribers:
MORE
NEWS

For more news on Aerospace and Defense Industry, please check the home page. Daily news feeds available.
NOTE:

I will be sending you newsletters every week. But my letters will always be late, and I will have had already uploaded the news articles much before on my site. Better keep checking my site!
Picture of the Week:
Unique picture by William Gilson